At Midas, we recognize that reliable support is essential to the continued success of our customers. Our Support Services are designed to give you peace of mind by keeping your systems running optimally, allowing you to focus on your goals while Midas takes care of the stability of your technology solutions.
Efficiency and compliance in technical support
From incident response to preventative maintenance, we strive to ensure client systems operate smoothly and are available when they are needed most. We rigorously comply with Service Level Agreements (SLAs) to guarantee customer satisfaction and compliance with response and resolution times.
Support team growth and development
We understand the importance of having a highly competent and motivated team. Our leaders supervise, guide and develop the support team to ensure they are up to date with the latest technologies and customer service techniques. We foster a collaborative and nurturing work environment to ensure that the support provided is of the highest quality.
Understanding long-term needs
We work closely with clients to understand their long-term needs. We offer solutions and seek to collaborate to identify points of improvement and optimization in your software solutions. The focus is to offer support that not only solves current problems, but also contributes to future success.
Innovation and continuous improvement in technological support
Innovation is key in everything we do. Midas constantly analyzes services to provide increasingly efficient and effective support solutions. From identifying inefficiencies to introducing new technologies, we strive to optimize operations and maintain high standards of quality and efficiency.
We provide different levels of service that can reach 7x24x365 service hours, as well as commitments in resolution times. We design and configure the support service together with our client to ensure its optimization based on the needs of each case.
We develop a prioritization matrix where we define with the client the different levels of priority that incidents may have depending on their impact and urgency. This matrix is ​​adapted in each case to the client's needs.
URGENCY
Low: There is no immediate need to resolve the issue. You can wait without causing a major impact on the operation of the service.
Medium: The issue requires relatively early attention and resolution, as it can cause additional problems if ignored for an extended period.
High: The incident requires immediate action, as it is causing a significant impact on the operation of the service and its resolution is critical.
IMPACT
Low: The impact of the issue is limited in scope and affects an individual user or a small group. It does not affect the service to a large extent.
Medium: The incident affects a large group of users or an important part of the service, causing interruption, but not completely paralyzing the operation.
High: Affects a critical service or many users, causing significant disruption that prevents or severely affects normal operation.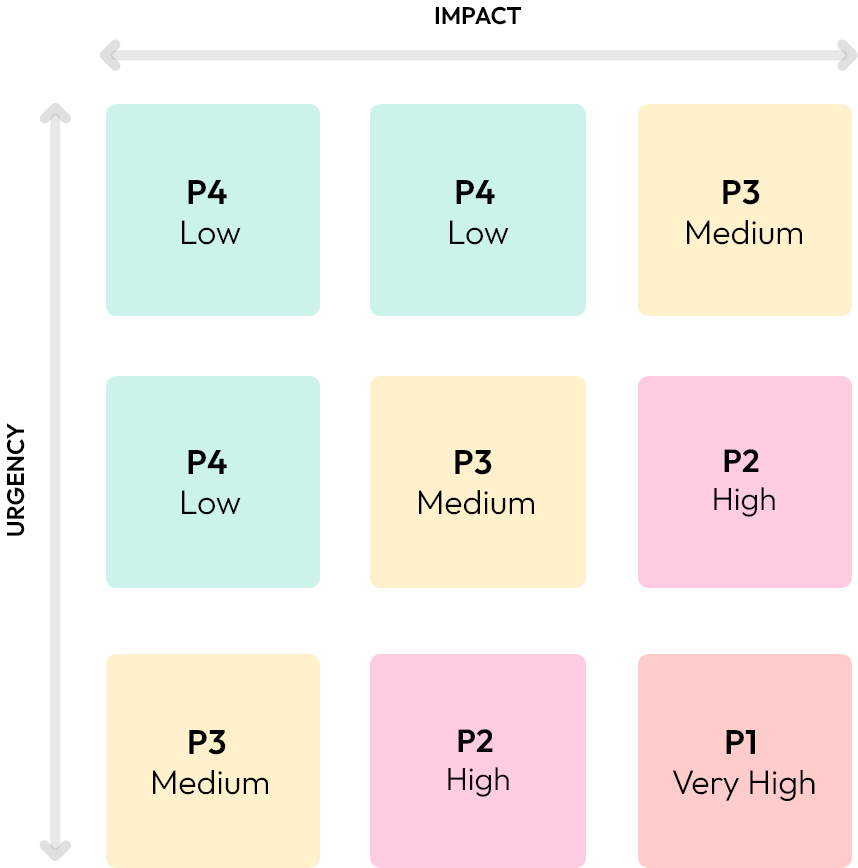 P1 - Very High: Incidents of high urgency and critical impact that require immediate resolution. These incidents have the potential to cause serious interruptions in the operation of the service and affect a large number of users.
P2 - High: Incidents of high urgency with a significant impact. Although they are not critical like P1, they still require immediate attention due to their impact on the operation of the service.
P3 - Medium: Incidents with moderate urgency and a moderate impact. They require attention within a reasonable time to avoid major interruptions and affect user satisfaction.
P4 - Low: Incidents with low urgency and impact. Although they are not urgent, they still need to be addressed within a reasonable timeframe to maintain quality of service.
Preparation of the Service Level Agreement (SLA)
The SLA will be agreed upon with the client, adjusting it to their needs and possibilities. From a service that only provides care on business days and hours, to an on-call scheme that can provide 24x7 coverage. Service levels appropriate to the criticality of the systems that must be supported will be established, where the expected Resolution Time (RT) will be agreed for each established priority level.
Continuous service improvement
Midas will internally and periodically analyze other metrics that will provide information to make decisions aimed at continuous improvement of the service. Among them are:
KPI: Resolution Time
Code: RT
Time it takes to resolve an issue from registration to closure.
KPI: 1st Response Time
Code: FTR
Time it takes to provide the first response to a customer after they have logged a problem.
KPI: First Contact Resolution Rate
Code: FCR
Percentage of problems that are successfully resolved in the first contact with the client.
KPI: Customer Satisfaction
Code: SCAT
Overall customer satisfaction with problem resolution and interaction with the support team
KPI: Number of Open Cases
Code: OCA
Number of unresolved problems at a given time.
KPI: Average Waiting Time in Queue
Code: AQTime
Average time cases spend on hold before being assigned to an agent.
Depending on the characteristics of the application, a multidisciplinary team is formed that has functional and technical profiles. This work cell is responsible for providing assistance, managing Tickets, monthly service reporting and compliance with the Service Level Agreement (SLA).
- Project Manager.
- Functional analyst.
- Developers.
- Quality Analyst (QA).

Given the characteristics of the service to be provided, the Kanban methodology is the most natural to guide its daily execution.
This methodology allows us to quickly detect slack or bottlenecks at some stage or role, and make decisions to expand or reduce the team based on that analysis.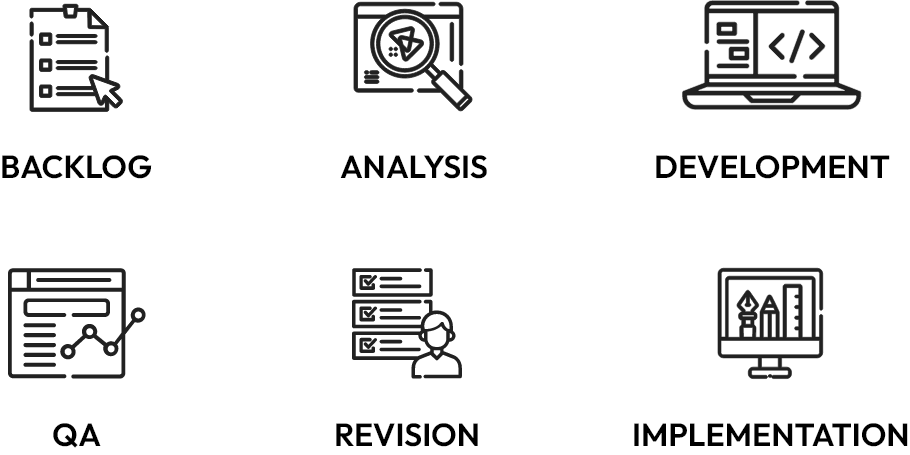 At Midas, we believe that technology support services should be more than problem solving. They must be a strategic partnership that drives the sustainable success of our clients' businesses. Our commitment is to provide you with quality support, anticipate your needs and take advantage of technological innovation to optimize your operations.